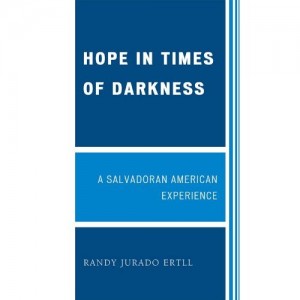 «HOPE IN TIMES OF DARKNESS: A SALVADORAN AMERICAN EXPERIENCE»
http://www.facebook.com/l/04f69;WWW.RANDYJURADOERTLL.COM
BOOK PRESENTATION/DISCUSSION AT PASADENA 'S LA PINTORESCA PUBLIC LIBRARY
«HOPE IN TIMES OF DARKNESS: A SALVADORAN AMERICAN EXPERIENCE»
WHO:          Randy Jurado Ertll, author of «Hope in Times of Darkness: A Salvadoran    American Experience»
WHAT:       Book presentation and discussion regarding
«Hope In Times of Darkness: A Salvadoran American Experience,» published by Rowman & Littlefield
WHEN:        Friday, January 8, 2010 12:00 p.m.
WHERE:     La Pintoresca Public Library
1355 North Raymond Avenue, Pasadena , CA 91103-2235
WHY:           To promote the culture, history, and political involvement of the Salvadoran American/Latino community in the United States .
Randy Jurado Ertll, author of «Hope in Times of Darkness: A Salvadoran American Experience» will be discussing the content of his book and the importance of promoting literature among the Salvadoran American and Latino youth.
The PewResearch Center recently published that over 1.5 million Salvadorans live in the United States .  They are the second largest Latino community group in California, however not much literature exist related to this growing community.
Our public schools and public libraries must include books that talk about the Salvadoran American experience.  This book also offers advice and ideas for our youth to succeed through education, gang prevention, and for students to believe in their own potential and unique talents.
Book Foreword by Ramon C. Cortines, Superintendent of the Los Angeles Unified School District (LAUSD)
The journey of Randy Jurado Ertll has not been easy by any means. He grew up in El Salvador and South Central Los Angeles. There, he lived in dangerous and violent environments. He overcame many challenges through focusing on obtaining a quality education through the Los AngelesUnified School Districtand through the A Better Chance scholarship program. He sacrificed by going away to Rochester , Minnesota and leaving his mother and two younger sisters behind. But he needed to get away, to escape the allure of gangs.

JuradoErtll sets an example that minority youth who grow up in the inner-city can in fact become successful and should return to their own communities to make a significant and positive impact in improving the lives of others. He has done an excellent job being executive director of El Centro de Accion Social where he helps countless students and senior citizens through social service programs. He is committed to social justice.

Jurado Ertll witnessed much violence and injustices. Instead of giving up or being intimidated, he has stood up and fought for the rights of others. It is an exhausting and demanding journey, but we need community leaders like him to continue making social change.

His story transcends the Salvadoran American experience. It is a real life story of perseverance and courage. As a Mexican American myself, I understand his struggles and dreams. Thousands of young students will relate to his story, will gain insight, and knowledge of opportunities that do exist to help our students. Our students need to be aware of the various programs that are available to help them succeed. We cannot afford to allow «our children» to drop out or join gangs.
They must seek the path of knowledge. As Superintendent of the Los Angeles Unified School DistrictI applaud Randy's efforts to inform our community through this insightful and powerful book. We have to teach our children that there is «Hope in Times of Darkness.»
By Ramon (Ray) Cortines, Superintendent – LAUSD
***
About the author
Randy Jurado Ertll is the executive director of El Centro de Accion Social in Pasadena, CA .  He has worked for Congresswoman Hilda Solis in Washington D.C., published numerous opinion columns in newspapers such as the Los Angeles Times, Houston Chronicle, La Opinion, Pasadena Weekly, Pasadena Star-News, and San Diego Union Tribune.  He has been interviewed by networks such as NPR, CNN, PBS, Univision, and Telemundo.