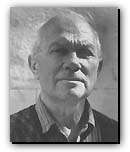 Franz Schurmann, the foremost scholar of Communist China during the Cold War, an early opponent of the US war in Indochina, and the co-founder of Pacific News Service, died at his home in San Francisco on Aug. 20, 2010. The cause was advanced Parkinson's disease and Alzheimer's disease. He was 84.
Schurmann taught history and sociology at UC-Berkeley for 38 years. Nevertheless, he chafed against the confines of the academy, and preferred to describe himself as an explorer-journalist rather than as an academic. He was fluent in 12 languages.
His first great exploration was a trip on horseback through Afghanistan in the late 1950s—a journey of two years that led Schurmann to discover what, until then, had been considered by anthropologists a mythical tribe of blue-eyed, blond-haired Mongols who descended from the military expeditions of Genghis Khan. ("The Mongols of Afghanistan", 1962)
In contrast to the Cold War polemics that dominated China studies in the U.S., "Organization and Ideology of Communist China" (1968) drew heavily on Schurmann's interviews of Chinese refugees in Hong Kong—interviews that enabled him to convey to western readers how Chinese society and governance truly worked.
Schurmann's knowledge of the histories and cultures of the Far East gave him an expertise within the anti-war movement few other critics of American foreign policies of the time commanded. In 1966, he coauthored, with Reginald Zelnik and Peter Dale Scott, "The Politics of Escalation", documenting a parallel chain of command operating within the US military and intelligence agencies that intended to thwart White House diplomacy.
An inveterate reader of the world press, Schurmann often told the story of a great WWII spy whose primary sources were daily newspapers. Schurmann tracked the rise of the post-Cold War global economy in "The Logic of World Power" (1974) and went on to challenge the almost universal demonization of Richard Nixon by America's intelligentsia with "The Foreign Politics of Richard Nixon" (1987).
Despite the acclaim his early writings had achieved, and his reputation as a rigorous if provocative scholar and thinker, no one would publish Schurmann's Nixon book, until Seymour Martin Lipset intervened on the book's behalf. Even then, the book – which credited Nixon rather than Kissinger with Machiavellian brilliance in creating the architecture of the post-Cold War world– never won an audience among official Nixon watchers, let alone academics.
Schurmann's last book, "American Soul" (2001) was a personal narrative, a view of the world from 29th Avenue in San Francisco, at the shore of the Pacific. He described an America that was transforming the world and being transformed by the emergence of a one-world culture and economy.
Herbert Franz Schurmann was born on June 21, 1926, in New York City and raised with his younger sister, Dorothy, in Bloomfield, Conn., just outside Hartford. He described his childhood home in "American Soul" as divided by silences that resulted from the meeting of separate cultures. His father –a migrant tool and die maker from Slovenia—had found work in Germany, Poland, Greece and Italy before immigrating to America. His mother fled starvation and the chaos of post-WWI Germany and found work as a housemaid with a German Jewish family in New York.
Schurmann, inheriting his father's gift for languages, absorbed the languages of the immigrant families of Hartford. He recalled fondly his Italian godmother, his French Canadian friends, and the meals served forth at his "Polish mother's" table.
A combative misfit at school, he papered his bedroom walls with maps of the world and kept a meticulous stamp collection. His father died when he was fifteen. He left high school early with a scholarship to Trinity College in Hartford. But he was a working-class commuter student, and he felt out of place.
During WWII, he was drafted and assigned to language school. While waiting in line to get his papers, he switched places with a Japanese-American soldier and ended up studying Japanese instead of German. Shipping off from San Francisco, he joined the US occupation forces in Japan, where he worked as a censor in the offices of a Japanese newspaper. He would later recall this as the beginning of his fascination with newspapers.
Thanks to the GI Bill, he entered Harvard after his discharge to pursue a doctorate in Asian studies, without ever having earned an undergraduate degree. While in the army, he formed what would be a lifelong friendship with a fellow draftee, Stefan Brecht, son of the German playwright Bertolt Brecht and the actress, Helene Weigel. During summer breaks from Harvard, where the younger Brecht was also a graduate student, the pair would hitchhike to Santa Monica to join the Brecht household. Schurmann's intellectual life, he later would say, began at the Brechts' dining room table, in conversation with Thomas Mann and other European intellectuals who had forged an exile colony in and around Hollywood.
For his Harrvard Ph.D., Schurmann translated into English the Chinese Mongol dynastic tracts. Schurmann returned to Japan after completing his doctorate to study Chinese agricultural economics for a year at Kyoto University. A two-year fellowship allowed him to pursue his studies of the Mongol tribe in Afghanistan and later to learn Turkish and Persian in Istanbul. He lived for a time in Paris, before returning to the United States, to San Francisco, which he remembered from his Army days.
"My life was a series of fortunate accidents," he would later recall, describing how a visit to UC Berkeley led to an offer by the Dept. of Oriental Studies to teach Turkish and Persian, filling in for a professor who was on sabbatical. Schurmann subsequently earned a tenured appointment in both sociology and history.
Schurmann's work on Communist China and the accuracy of his prediction of a Sino-Soviet split prompted offers from RAND and US intelligence agencies. But the growing US involvement in Vietnam caused him to become a critic of U.S. foreign policy.
A founding member of the Faculty Peace Committee at UC Berkeley in the fall of 1964, Schurmann immersed himself in the nascent anti-war and Free Speech movements. He gave—along with anti-war intellectuals like Noam Chomsky, Richard Barnett, Seymour Melman and Richard Falk – an intellectual backbone to the movement. In the spring of 1968, he traveled to Hanoi with Mary McCarthy for a two-week fact-finding trip at the invitation of the North Vietnamese government. Deplaning later in Phnom Penh, Schurmann's belligerant confrontation with US Ambassador William Sullivan over America's secret war in Laos earned him headlines at home: "UC Berkeley Professor Squares off with US Ambassador" (Time Magazine). On his return, he was debriefed by Sen. J. William Fulbright, chairman of the Senate Armed Services Committee. "The government is perpetuating so many lies," Schurmann reported. "I wish it were that simple," Fulbright responded (according to Schurmann). "The government lies so much it no longer can tell the difference between what's a lie and what's the truth."
To promote independent research and writing, Schurmann founded the nonprofit Bay Area Institute and later, with a former student, Orville Schell, the Pacific News Service, in 1970. After President Nixon's breakthrough diplomacy to China and the subsequent end of the Indochina War, Schurmann expanded the scope of his inquiries beyond East Asia to domestic affairs, especially the transformation of American cities with the onset of the global economy. A background session with Huey P. Newton about Newton's upcoming trip to China led to an intellectual assocation. Schurmann wrote the introduction to Newton's book, "To Die for the People."
Schurmann's devotion to Pacific News Service reflected his passion for newspapers. In 1974, his partner, Sandy Close, a former Hong Kong-based journalist and founder of the Flatlands newspaper in Oakland, California, took over the news service. For more than 35 years the couple ran PNS as a shared enterprise.
Schurmann's columns reflected the range of his inquires – he translated the poetry scrawled by student demonstrators on the walls of Tiananmen Square; he analyzed the manifesto of the Taliban, which he translated from Pashtun long before the group had even surfaced as a political movement of interest to the US press; he warned in 1996 of the spreading of desertification of the globe: "I can taste the sand of the Gobi Desert on the streets of San Francisco."
A one-time director of the Center for Chinese Studies at UC-Berkeley, Schurmann bridled at any official designation of himself as a "China expert"—as if such a designation would proscribe his intellectual freedom.
"I've moved on," he would say, restless as always to resume his intellectual journey—to quantum physics, and then—in the early 1990s—to the study of written Arabic and to Islam. He mastered the script sufficiently to be able to read the Koran and the Arab language press which became his source of information for hundreds of columns, tracking the spread of militant Islam and America's deepening engagement with the Muslim world.
Schurmann retired from UC Berkeley in the mid-1990s, a move he believed would free him to travel and to write. Stung by the rejection of his writing on Nixon by the East Coast publishing world, he slowly cut his ties to academia and many intellectual circles. Though in the 1960s Time named him one of America's 50 most influential thinkers, by the 1990s he returned to his roots—traveling, observing, listening. His late travels took him to Latin America, Africa, India and China. On his last trip to China, Franz was accompanied by his younger son, Peter, and his son's friend, a fellow New York bike messenger at the time, a young man with bright red hair who towered over everyone they met.
He mentored colleagues at PNS—from noted author and essayist Richard Rodriguez to young writers at YO! and the Beat Within, more than a dozen of whom shared, at various times, the Schurmann's home. He served as the intellectual inspiration for the founding of New America Media by his partner, Sandy Close. "Franz was constantly shifting and expanding his lens, drawing on his readings of foreign-language media. PNS would never have made the breakthrough to NAM had it not been for his example," said Close.
In those same years, not a day passed when he did not walk miles through San Francisco, often walking the eight miles from his home in the Sunset to the PNS offices downtown in less than 90 minutes.
Schurmann gradually withdrew to his study, acquiring an early facility with the computer and masking the onset of Alzheimer's disease with a prodigious flow of ideas. His last five years were lived in seclusion, though he was visited faithfully by many students and PNS colleagues, even after he could no longer communicate. "This thinker and explorer whose gift was his ability to listen and learn from so many ordinary people all over the world finally retreated to the world of his mind, a universe by itself," said Close.
Schurmann is survived by his partner of 42 years, Sandy Close; two sons, Mark Anderson Schurmann of Olympia, Washington; and Peter Leon Schurmann and his wife Aruna Lee,and grandson Leon of San Francisco; a sister, Dorothy Schurmann of Oakland; and a godson, Hanif Bey of San Francisco.
A memorial service will be held at the Alumni House in UC Berkeley (date to be determined by Monday).