'La Peña de Bernal', a monolith and a magic town in Central Mexico
Tom was more excited than I was about going to La Peña de Bernal, the world's second largest monolith located in San Sebastian Bernal, a small town in central Mexico, which is on the list of "36 magic towns in Mexico".
Tom says La Peña will recharge our energies and we will return with a renewed spirit.
The town really is mystic. You can feel it in the air. You can see it in the old colonial houses, churches and water fountains. Some grocery stores look like they were frozen in time during the Revolutionary Era and then brought back to life.
Bernal was founded in 1861, and it has been a backdrop of several movies from the Golden age of Mexican Cinema. At night, the town seems really dead. Nobody is in the streets. As Tom, Jerry and I walk through the narrow deserted streets, I remember all the scary stories that my Grandma told me as a child. I get the feeling than any minute a headless horseman is going to appear. There were no headless horsemen, no ghosts, no dead men climbing out of their graves, but there were goats. Their bleating – the sound oddly reminiscent of screaming children – scared us so much, that Jerry jumped and came to hug me. Back at the hotel, Tom and I decide to wake up at 7am to hike La Peña. Jerry says he'd rather sleep.
I am the first to wake up. As soon as Tom realizes I'm awake, he's up and ready. He approaches Jerry, and says, "You have to come with us." As it incredible as it sounds, Jerry leaves his bed and gets dressed fast. In a few minutes, we are crossing the sleepy town to La Peña, which can be seen from every part of town. It's 1150 feet tall. We arrive at La Peña and start to hike up along some tracks.
I remind Tom that we have to get to the top. As we walk, I notice that Jerry and Tom are walking faster than me and that they seem to have a lot of energy. Jerry makes fun of me, saying, "Where is the woman who runs every day?" Twenty minutes later, I start to get out of breath. I tell them I need to stop for a few minutes, but they do not listen. They keep going, fast and full of energy, like wild goats. I walk and I stop, walk and stop. I feel like I need air. There isn't enough air for me.
At a certain point, I can't see Jerry and Tom. I continue walking, but the road gets rougher and the going gets harder. It is only a rock, I tell myself. I yell after Tom,"Where are you?" I see him several feet ahead of me. He returns to me, but I cannot keep up with him.
Soon, I am alone again. I arrive at a small chapel with candles. I poke my head inside, wondering what it's all about. My mind is blank. I see another chapel in the distance and keep walking. It is around 8am on Sunday. There is nobody hiking at this hour. I feel like I am going to suffocate and yell after Tom, "Where are you?" I hear his voice from far away. In a few minutes, he is with me. I tell him, "I can't continue, I do not know how I am going to descend from here, nor how I arrived at this point."
"Okay,"Tom says. I can see that he's nervous.
"Wait here!" he says. "Do not move! Do not move from here! I need to go to look for Jerry. Wait for us here!"
I feel very frustrated, want to get to the top but I can't do it. There is a spectacular view of the town, but I cannot enjoy it. All I'm thinking about is how to get down. The rocks are very slippery. I am afraid to slip an dask God to help me find a way down. I ask Him to help me to be smart. There are two roads. I have to pick the less dangerous one. As I start to climb down the rocks using my arms, I am trying to keep focused. I have not gone very far, when Tom yells at me. I looked back, trying to find him by the sound of his voice.
Jerry and Tom are on a cliff. "We do not know how to descend," Tom says, "We need you to tell us."
I cannot tell Tom that I do not have my glasses that he has them in the pocket of his shorts. I cannot see what is far away.
"You need to guide me where to descend," Tom calls out.
I do not know but I do not want to panic him anymore than he already is.
"Is this the right road?" Tom asks.
"Yes," I say, guessing.
He descends, and then he helps Jerry. Minutes later we are together. I can see fear in their faces.
"This is a suicide mission!" Jerry exclaims.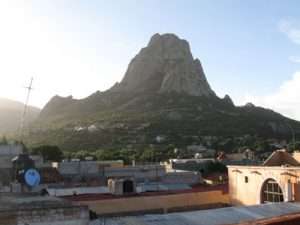 We start to climb down, helping each other. When we finally arrive to the entrance, I see a native who has a stand of candies. I tell her about our experience. She tells us that 13 tourists and two alpinists have died on La Peña. Last year, a 16 year old boy fell down and died, she says.
She explains that tourists die because when they want to return they cannot see the roads nor the nails that there are among the rocks.
"It is very hard to see them", she says.
The chapels that I peaked into, were in honor of the people who died.
To get to the hotel, we pass through the town which has become vibrant and lively. The dark narrow empty streets are now full of color. Church bells are ringing. The smells of breakfast wafts through the streets. There are tourists and vendors all over around. The stores are open, displaying traditional blankets and bed covers. We can see looming workshops. Everything is festivity and life. We do not know where all these people were before we went to La Peña.
After a shower and some recovery time, we go to a restaurant. We sit outside and savor coffee, chocolate and sweet breads. From our table we can see La Peña. Drinking my hot chocolate, I confess that I panicked and that I also felt frustrated because I really wanted to get to the top. I learn that to get to the top, I would need to get Alpine training and special equipment.
A little annoyed Jerry says: "This is the last time that I follow you guys. We could have died".
It was Tom's turn: «I was not concerned about passing away, but about what we're going to eat while waiting for the rescue team."
Editor: María Ginsbourg, Journalism graduate
from San Francisco State University.
Araceli Martínez Ortega is a Mexican journalist who has lived in California in the last nine years. This collaboration is about her personal journey through Las Americas and wherever she goes.